Harpoon Brewery and Dunkin' have reportedly launched a new coffee flavored beer called Harpoon Dunkin' coffee porter. As per reliable sources, the newly released brew is a combination of the flavors of Dunkin's espresso blend and Harpoon's craft beer that's serving customers a new way to toast the start of fall.
According to sources familiar with the matter, the new beer which consists of 6% alcohol, has a malty taste but aromas of espresso and dark chocolate. Customers can get their hands on the brand-new beverage during the rest of the season at select outlets throughout the Eastern U.S.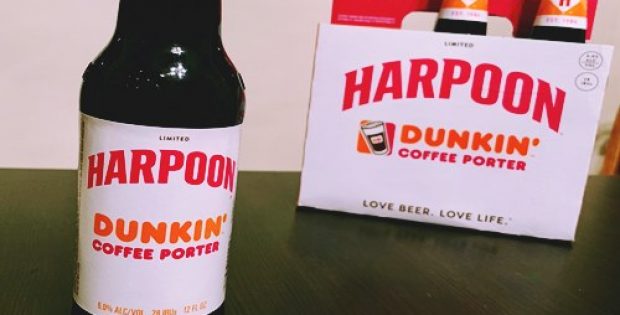 The new brew is also said to pair perfectly with fall favorites such as hearty stews, tailgating, seasonal desserts and Dunkin's signature donuts. Dan Kenary, CEO & Co-Founder of Harpoon Brewery, was quoted saying that the new coffee porter which was recently made available to the masses, has been created in the honor of Dunkin. Kenary further added that the baked goods chain has been a partner of Harpoon Brewery since the early days.
As per a news release by Dunkin's, the Harpoon Dunkin' Coffee Porter will be available to consumers throughout the fall, served in 12 oz bottles. The brew first premiered on September 27 at Dunk-toberfest, which is Harpoon's annual Octoberfest event. The event allowed beer lovers in Boston get an early taste at Harpoon's Boston Brewery, way before the new beer was available in stores.
Tony Weisman, Chief Marketing Officer of Dunkin' U.S, said in a statement that the brand has such loyal fans who begin their day with Dunkin's coffee and end it with Harpoon's popular craft beers. Weisman further added that the company is thrilled to merge the two, in a partnership with one of the most valued craft breweries in the country to offer beer and coffee lovers with a classic new taste to celebrate the season.