The Swedish multinational furniture giant Ikea, which is also known for its low-priced and cheerful hot dog station, is reportedly set to launch its first vegan hot dog in all its stores across the U.S. As per reliable sources, the veggie hot dog finally debuted in Ikea's European stores last month, where it exceeded estimated sales target by selling more than one million hot dogs till date.
The firm claims that the new vegan hot dog consists of about seven times less CO2 emissions per kg compared to its standard version. The hot dog made from meat has a carbon footprint of 6.38 kgCo2eq/kg, while the vegan version has 1.02 kgCO2eq/kg.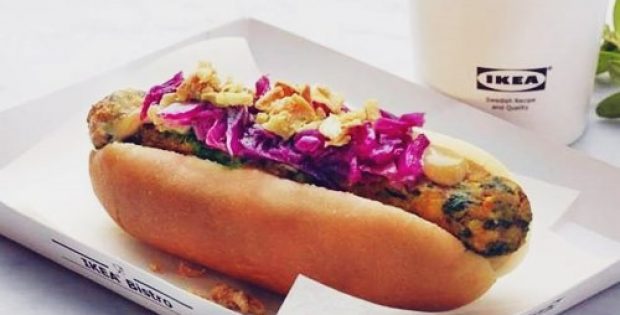 According to a report by LiveKindly, an Ikea representative claimed that the emission factors were provided by external consultants and include all greenhouse gases. The carbon footprint of a product is measured as the total emissions from the product's ingredients divided by the mass of the product. The emissions are then calculated based on industry-specific emission factors, covering all activities pertaining to emissions upstream in the supply chain.
Michael La Cour, Managing Director of Ikea Food Services AB, said in a press release that the food production industry is facing many challenges lately, with sustainability being one of them. With Ikea's global reach, the company sees itself as having a major responsibility and opportunity to serve food that benefits the planet, Cour added.
Sources have reported the firm has been taking more efforts towards becoming sustainable, which include implementing a solution to reduce food waste to 50% by 2020 and investment in Aerofarms, a vertical farming company that produces 2 million pounds of leafy vegetables annually.
Customers have been flooding the Instagram account of Ikea Food Services with comments and questions related to the new veggie hot dog. Although the new veggie hot dog is made from vegan ingredients, Ikea claims the bun can differ from market to market, reported sources.